Scalability
Designed for the long-haul
Mixpanel can handle your data, no matter how big you'll grow.
Lightning-fast queries at scale
With our custom data architecture, Mixpanel answers 21M questions and processes 1T events every month — and we're only getting faster at scale.
Bring in trusted data
Analyze data from the systems you trust, by integrating with your customer data platform (CDP) or streaming directly from your data lake or warehouse.
Collaboration
Analytics everyone enjoys using
Building product is a team sport. Mixpanel makes it easy for everyone in the company to make critical product decisions together, faster. Unlock innovation by helping teams help themselves to data.
An intuitive user interface
Easy to learn, easy to find insights quickly. With an intuitive self-serve interface, Mixpanel democratizes decision-making by allowing anyone to get the answers they need.
Share stories, not just numbers
Data keeps teams aligned and aware. Mixpanel's Boards are flexible and interactive so your team can share insights with context via text, images, or videos.
Compliance
Trustworthy product security
Store and query your data with confidence. It's secure and protected with Mixpanel's advanced controls and comprehensive compliance.
Secure access and provisioning
Give employees access to Mixpanel via SAML-based single sign-on (SSO), and automate user provisioning with SCIM API.
More oversight with admin controls
Set granular user, team, and data permissions via our Admin Panel.
Compliance with data laws
Mixpanel is compliant with SOC 2 Type 2, GDPR, CCPA, and more.
Data Governance
Better data, better decisions
Data-driven is great only if your data is reliable. Keep your data clean and trustworthy over time by defining and managing data within Mixpanel.
Lexicon
Your data dictionary surfaces metadata directly in the analysis interface, so you can get context without leaving your workflow. With complete context, your team can make decisions quickly and confidently.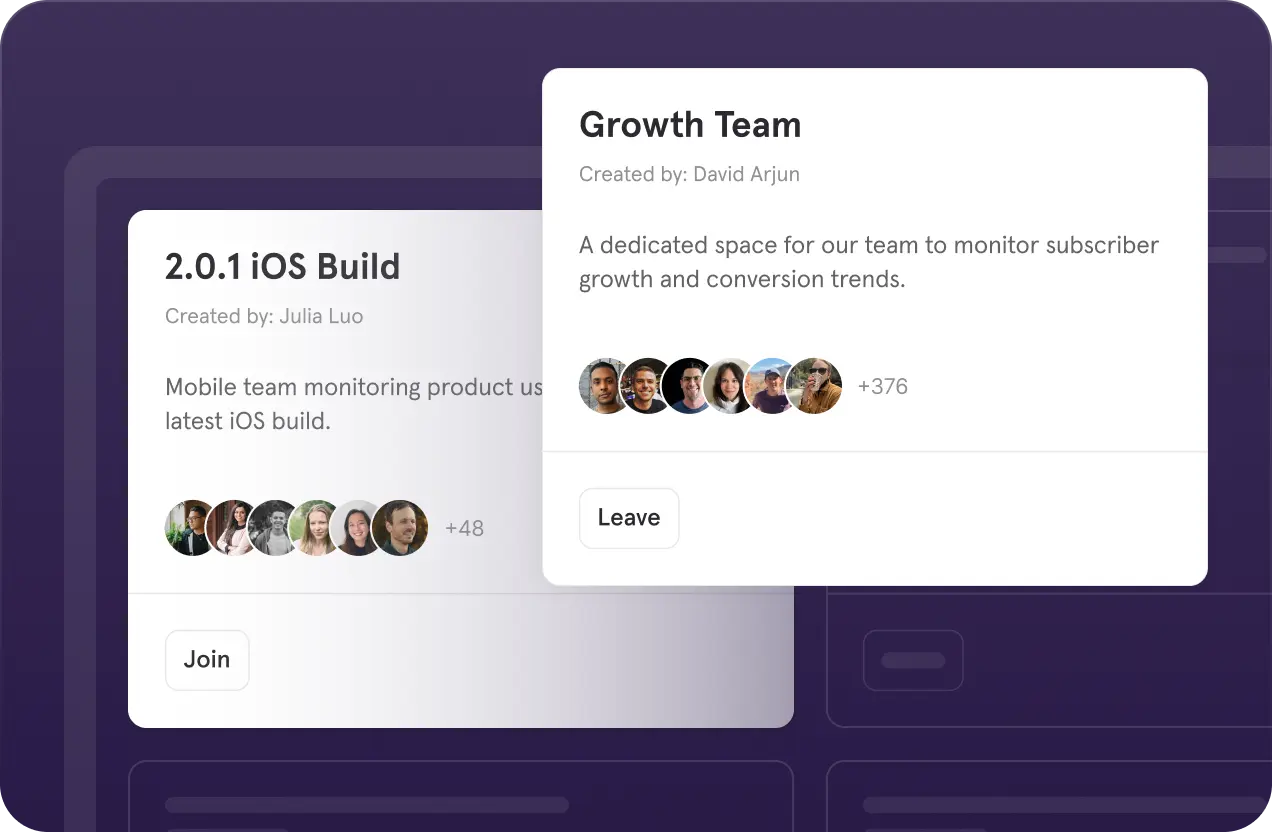 Data Views
Not all data is useful to all teams, all the time. Within a single Mixpanel project, you can create filtered views so that your team only sees the most relevant data. As your team grows, you can update this configuration on the fly.
Customer Success
Guidance from our experts
Building a great user experience is hard. We get it, we're builders too. Access expert guidance and strategic planning from our tenured Mixpanel team at any time, and rest assured that you're in good hands.
Customer success partnership
We'll help you strategically enable self-serve analysis by working with you to define metrics, collect data, and build dashboards — and scale these best practices org wide.
Meet you in your workflows
Our team is flexible to work with you wherever you need. Whether you prefer live trainings via Zoom or asynchronous contact via Slack, Notion, and Loom, we'll meet you where you are.
Support and elevated SLAs
When those critical questions pop up, rest assured that our support team will come to your rescue, with responses as quickly as within the hour for qualifying packages.
"The data we get from Mixpanel is vital to what we do, day in and day out. Teams across the company are able to answer their own analytics questions easily, without any developer skills."
Jeff Parker - VP Product
"Anyone can pick up Mixpanel and learn about our customer behavior, digging deep into metrics that matter to them, and know that the data is accurate and trustworthy."
Roopa Gidugu - Sr. Technical Product Manager
"Now our entire company understands user behavior and values data analysis. Before making strategies, we first come up with hypotheses for our primary metrics. Being able to track our metrics helps us to determine which projects are important and reach our goals faster."
Mike Chen - Chief Product Officer
"Mixpanel is the 'intuition pump' for our product team. It enables our product managers and designers to uncover and focus on larger opportunities for product discovery and improvement."
Angela Sun - Sr. Product Manager Data Products